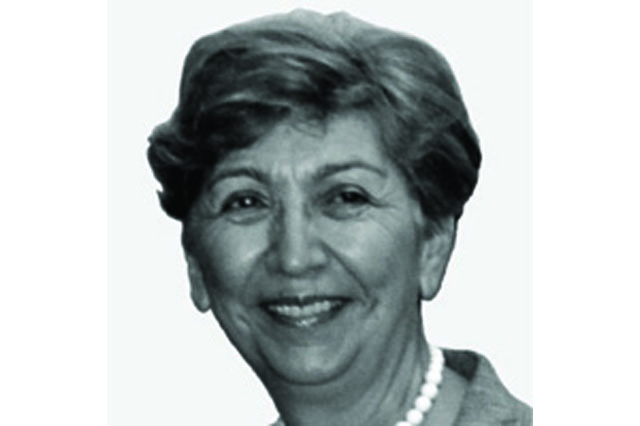 Dr Gordana Grubor-Lajšić (23. 9. 1949 – 29. 10. 2015), was Full Professor at the University of Novi Sad. She was born in Banja Luka (Bosnia and Herzegovina, SFR Yugoslavia) on the 23rd of September 1949. Prof. Grubor-Lajšić completed her primary school and Grammar school "Jovan Jovanović Zmaj" in Novi Sad. She obtained BSc. degree in chemistry in 1972 at the University of Novi Sad, Faculty of Sciences, she defended in 1976 her MSc. Thesis in biochemistry entitled "Hemoglobin of the common pheasant" at the University of Belgrade, Faculty of Sciences and her PhD thesis entitled "Biochemical survey the on system of cryoprotectants in insects – Ostrinia nubilalis" in 1984 at the University of Novi Sad, Faculty of Sciences. From 1977 until 1986 Professor Grubor-Lajšić worked at the Clinical Centre in Niš in the laboratory of nephrology as a biochemist and in 1986 she specialized in clinical biochemistry at the Medical Faculty, University of Niš.
At the Department of Biology and Ecology, Faculty of Sciences, University of Novi Sad, she was first appointed as a teaching assistant in biochemistry in 1973 and later as Assistant professor in 1986, Associate professor in 1991 and finally Full professor in 1996. Apart from teaching Biochemistry, as a fundamental course and she had introduced new courses such as Mechanisms of Ecological Adaptations, Clinical Biochemistry, Biochemistry of Diet and Nutrition, Biochemisty 2, Enzymes and metabolic regulation and many others at various levels of academic studies. She was one of the leading Professors who established new study programmes at the Faculty of Sciences – namely, Bachelor studies in Biochemistry in 2000 and Bachelor studies in Molecular Biology in 2003. Professor Grubor-Lajšić was an excellent educator, a strict Professor and mentor who was highly respected by her students. Overall, Professor Grubor-Lajšić mentored more than 50 BSc Theses, 10 Masters Theses and 9 PhD Theses.
The main focus of research for Professor Grubor-Lajšić was on insect cold hardiness, especially in a species of moth, the European corn borer, Ostrinia nubilalis. Her pioneer work on cryoprotective mechanisms in overwintering caterpillars of O. nubilalis resulted in her PhD thesis under the supervision of Professor Vera Planački. Later her research was focused on deciphering antioxidative mechanisms that govern insect diapause and cold hardiness. She conducted a significant number of mutual scientific experiments with her dear and respected colleagues – full professor Dr. Mihajlo Spasić and research professor Dr. Duško Blagojević, from the "Siniša Stanković" Institute for Biological Research in Belgrade. Moreover, in 1987, Gordana was a visiting Fulbright Scholar at the University of Massachusetts, Amherst, Massachusetts, USA working with Professor John H. Nordin on the biochemistry of insect diapause and overwintering. Later, in 1989, as a holder of a prestigious Research Fellowship of the Royal Society, Professor Grubor-Lajšić spent a year at the British Antarctic Survey (BAS) in Cambridge,UK, undertaking collaborative research on insect cold hardiness with highly respected eco-physiologists, Dr. William Block, and Dr. Roger Worland. Gordana continued her productive research collaboration with BAS culminating in their participation on a joint European FP6 project on animal dormancies. This joint research on cold hardiness of arthropods was published in 11 original scientific articles in peer-reviewed journals as well as in a book chapter published by Springer-Verlag. Apart from insect eco-physiology, Gordana also participated in a range of bio-medical and veterinary research projects.
Overall, she published more than 40 research articles in international journals, 12 articles in domestic journals, 3 book chapters in international monographs and 2 academic textbooks in Serbian language. Professor Grubor-Lajšić participated in more than 10 research projects national and international and headed 4 projects. According to SCOPUS database, prof. Grubor-Lajšić has 990 citations and h-index 17 (as of 1st March 2022).
As a Professor, mentor and colleague, Gordana has left an unforgettable mark on the Faculty of Sciences (Novi Sad) and the Serbian Biochemical Society. She was an engaging, highly motivated and passionate scientist, a devoted educator and above all – a wonderful human. Her colleagues will remember her as an honest and reliable friend, always eager to listen and to help. She is greatly missed by all who had the good fortune to know her.
Selected Bibliography
Purać J., Kojić D., Petri E., Popović Ž.D., Grubor-Lajšić G., Blagojević D.P. (2016) Cold Adaptation Responses in Insects and Other Arthropods: An "Omics" Approach. In: Raman C., Goldsmith M., Agunbiade T. (eds) Short Views on Insect Genomics and Proteomics. Entomology in Focus, vol 4. Springer, Cham. https://doi.org/10.1007/978-3-319-24244-6_4
Popović, Ž.D., Subotić, A., Nikolić, T.V., Radojičić, R., Blagojević, D.P., Grubor-Lajšić, G., Koštál, V. Expression of stress-related genes in diapause of European corn borer (Ostrinia nubilalis Hbn.) (2015) Comparative Biochemistry and Physiology Part - B: Biochemistry and Molecular Biology, 186, pp. 1-7. DOI: 10.1016/j.cbpb.2015.04.004
Vukašinović, E.L., Pond, D.W., Worland, M.R., Kojić, D., Purać, J., Popović, Ž.D., Grubor-Lajšić, G. Diapause induces remodeling of the fatty acid composition of membrane and storage lipids in overwintering larvae of Ostrinia nubilalis, Hubn. (Lepidoptera: Crambidae) (2015) Comparative Biochemistry and Physiology Part - B: Biochemistry and Molecular Biology, 184, pp. 36-43. DOI: 10.1016/j.cbpb.2015.02.003
Grubor-Lajšić, G., Petri, E.T., Kojić, D., Purać, J., Popović, Z.D., Worland, R.M., Clark, M.S., Mojović, M., Blagojević, D.P. Hydrogen peroxide and ecdysone in the cryoprotective dehydration strategy of megaphorura arctica (Onychiuridae: Collembola) (2013) Archives of Insect Biochemistry and Physiology, 82 (2), pp. 59-70. DOI: 10.1002/arch.21073
Worland, M.R., Grubor-Lajšić, G., Purać, J., Thorne, M.A.S., Clark, M.S. Cryoprotective dehydration: Clues from an insect (2010) Topics in Current Genetics, 21, pp. 147-163.DOI: 10.1007/978-3-642-12422-8_9
Clark, M.S., Thorne, M.A.S., Purać, J., Burns, G., Hillyard, G., Popović, Ž.D., Grubor-Lajšić, G., Worland, M.R. Surviving the cold: Molecular analyses of insect cryoprotective dehydration in the Arctic springtail Megaphorura arctica (Tullberg) (2009) BMC Genomics, 10, art. no. 328 DOI: 10.1186/1471-2164-10-328
Purać, J., Burns, G., Thorne, M.A.S., Grubor-Lajšić, G., Worland, M.R., Clark, M.S. Cold hardening processes in the Antarctic springtail, Cryptopygus antarcticus: Clues from a microarray DOI: 10.1016/j.jinsphys.2008.07.012
Jovanović-Galović, A., Blagojević, D.P., Grubor-Lajšić, G., Worland, M.R., Spasić, M.B. Antioxidant defense in mitochondria during diapause and postdiapause development of European Corn Borer (Ostrinia nubilalis, Hubn.) (2007) Archives of Insect Biochemistry and Physiology, 64 (3), pp. 111-119. DOI: 10.1002/arch.20160
Worland, M.R., Grubor-Lajsic, G., Montiel, P.O. Partial desiccation induced by sub-zero temperatures as a component of the survival strategy of the Arctic collembolan Onychiurus arcticus (Tullberg) (1998) Journal of Insect Physiology, 44 (3-4), pp. 211-219. DOI: 10.1016/S0022-1910(97)00166-2
Grubor-Lajšić, G., Block, W., Worland, R. Comparison of the cold hardiness of two larval Lepidoptera (Noctuidae) (1992) Physiological Entomology, 17 (2), pp. 148-152. DOI: 10.1111/j.1365-3032.1992.tb01192.x