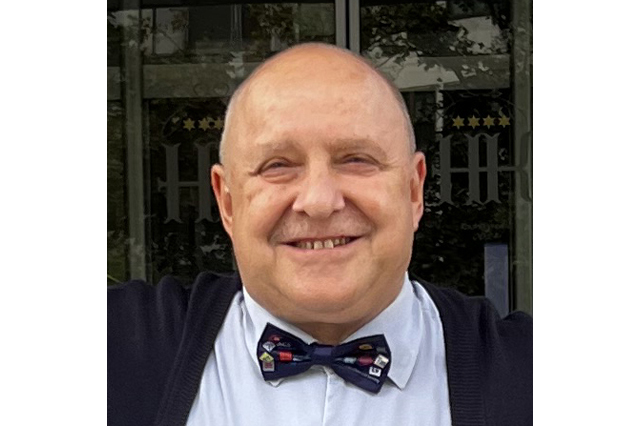 Professor Miroslav M. Vrvić was born in Vršac in 1952. He finished elementary school and high school in Zaječar. He enrolled in chemistry at the Faculty of Science and Mathematics in Belgrade in 1971, and graduated in 1975. He defended his doctoral dissertation entitled "Effect of thion bacteria on sulfide substrates: fundamental and applied aspects" at the same faculty in 1991. In 2021/22. he enrolled in the academic master's studies in nutrition and supplementation at the Faculty of Medical Sciences in Kragujevac, which he completed in the same academic year with the defense of the master's thesis "CoViD-19: Supplementation with vitamins and minerals in prevention and rehabilitation" and obtained the academic title of MS in Nutrition and Supplementation.
He started working at the Department of Chemistry of Natural Products (now the Department of Biochemistry) of the Chemistry Institute of the Faculty of Science (now the Faculty of Chemistry) of the University of Belgrade as a volunteer in 1976, and was employed as an assistant trainee in 1977. He obtained all titles (assistant professor-1992, associate professor-1997 and full professor-2003) at the same department and the same faculty, from which he retired in 2017. In the same year, he was elected as a scientific advisor for chemistry. He is a biocides instructor in the process of training a chemical advisor.
The area of predominant interest, scientific research work and application of the results is the chemical and biochemical activity of microorganisms, especially biogeochemical, as well as in the biotechnology of the environment, food and function and biologically active substances.
The first teacher of the Faculty of Chemistry was chosen for the subject of the basics of biotechnology. He taught a group of biotechnology subjects at undergraduate, master's and doctoral studies, as well as subjects in the field of food and nutrition, ecological and green (bio)chemistry... He was a mentor at almost 200 graduate/final, specialist, master's and master's theses. He supervised the preparation of 26 defended doctoral theses.
He is the author and co-author of about 500 references, including patents and technical solutions in application and products on the market, as well as 145 scientific papers from the SCI list, which according to Scopus as of May 9, 2023, were cited 2576 times (cited without self-citations is 2058) with an h-index of 24. He participated and managed the realization of several dozen international and domestic projects and projects of cooperation with the economy. Currently (2023), he is participating in the implementation of two international projects ("Development of an innovative process for the production of CBD oil from industrial hemp flowers and new high-tech products-extracts from organic agricultural raw materials", IRI-EU-Croatia-Serbia, 2021-2024 and Twinning " Microplastic-Free Environment"-GREENLand, Horizon-Widera, EU-Serbia-Germany-Ireland, 2023-2025.) He gave several lectures by invitation in the country and abroad. He was in about twenty countries on all continents (except Antarctica) for about 40 shorter study stays (up to a month) and professional visits (universities, institutes, industry).
He is a member of the Serbian Biochemical Society, the Association of Microbiologists of Serbia, the Nutrition Society of Serbia, the American Chemical Society (ACS), the American Society for Microbiology (ASM) and the American Association for the Advancement of Science (AAAS). He is a co-founder and member of the Society for Food Technology of Serbia. He was a member of the Serbian Chemical Society for almost 40 years, until 2013.
He is the recipient of the "Medal for outstanding merits in the application of science in industry" of the Serbian Chemical Society for the year 2000. In 2015, he received from the Association of Microbiologists of Serbia a "Certificate of Appreciation for years of selfless support to the work".
Selected publications (10)
T. Jednak Berić, J. Avdalović, J. Milić, V. Teofilović, M.M. Vrvić, B. Jovančićević, S. Miletić, The influence on microorganisms of heavy metals from refiner's spent desulphurisation catalysts, Chemistry and Ecology 39 (2023) 202–213.
J. Avdalović, S. Miletić, O. Božović, T. Šolević Knudsen, D. Stanković, N. Lugonja, S. Spasić, K. Joksimović, I. Dragičević, M.M. Vrvić, Study on the assessment of humification processes during biodegradation of heavy residual fuel oil, Science of The Total Environment 797 (2021) 149099.
N.M. Lugonja, D.M. Stanković, B. Miličić, S.D. Spasić, V. Marinković, M.M. Vrvić, Electrochemical monitoring of the breast milk quality, Food Chemistry 240 (2018) 567–572.
J. Katanić, T. Boroja, N. Stanković, V. Mihailović, M. Mladenović, S. Kreft, M. M. Vrvić, Bioactivity, stability and phenolic characterization of Filipendula ulmaria (L.) Maxim., Food and Function 6 (2015) 1164–1175.
V. P. Beškoski, G. Gojgić-Cvijović, J. Milić, M. Ilić, S. Miletić, T. Šolević, M. M. Vrvić, Ex situ bioremediation of a soil contaminated by mazut (heavy residual fuel oil)-A field experiment, Chemosphere 83 (2011) 34–40.
M.Đ. Radulović, O.G. Cvetković, S.D. Nikolić, D.S. Đordjević, D.M. Jakovljević, M.M. Vrvić, Simultaneous production of pullulan and biosorption of metals by Aureobasidium pullulans strain CH-1 on peat hydrolisate, Bioresource Technology 99 (2008) 6673-6677.
V.V. Dragutinovic, N.S. Radovanovic, L.T. Izrael-Zivkovic, M.M. Vrvic, Detection of gelatinase B activity in serum of gastric cancer patients, World Journal of Gastroenterology 12 (2006) 105-109.
I.S. Djujić, O.S. Jozanov-Stankov, M. Mandić, M. Demajo, M.M. Vrvić, Selenium content and distribution in rat tissues irradiated with gamma rays, Biological Trace Element Research 33 (1992) 197-204.
M.M. Vrvić, V. Matić, J. Vučetić, D. Vitorović, Demineralization of an oil shale by Bacillus circulans (»siliceous bacteria«), Organic Geochemistry 16 (1990) 1203-1209.
M.M. Vrvić, V. Djordjević, O. Savković, J. Vučetić, D. Vitorović, Preparation of rich kerogen concentrates: Removal of pyrite with Thiobacillus ferrooxidans, Organic Geochemistry 13 (1988) 1109–1114.